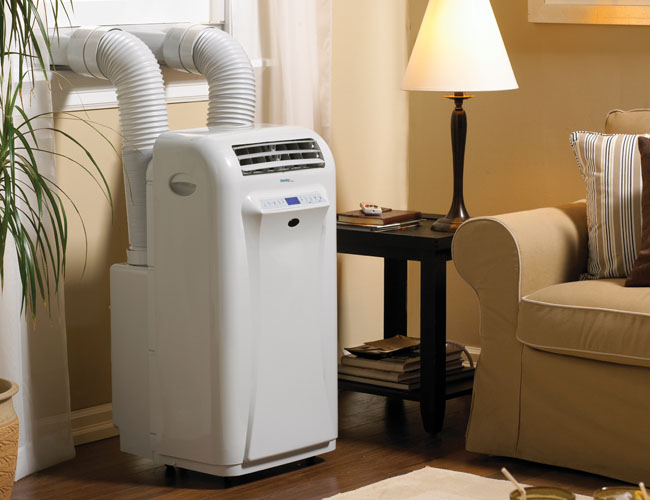 Watching those action packed sci-fi movies are best especially when you are in your cold room probably munching on some snacks. However, have you ever had those problems where a certain portion of the room is not being cooled by your window type air conditioner? This is why portable air conditioners are the way to go.
Portable air conditioners are mobile units that are made to cool and dehumidify small areas. Most of these units can be programmed to a specific temperature and time of operating much like a central cooling system. They take up some space but are really made to be low profile compared to window units. Portable air conditioners are also not very expensive.
What to Look For
Not all mobile air conditioners are alike. In addition to price and quality, you'll want to check out these features when looking for the best portable air conditioner for your home.
Size
When it comes to mobile air conditioners, bigger doesn't mean better. Although you might want an air conditioner that is big enough to cool your room, larger units will only waste electricity. There is no point in making your house cooler if you can't pay for your electric bills.
Energy Efficient
Look for the Energy Star certification from the government. This is a good indicator that the product is good in saving energy. The higher the energy start number, the more energy efficient it is. However, not all manufacturers apply for energy star certifications. There are even people who will lie about it.
Energy Efficiency: There's no point cooling your house if your electric bill burns you. Compare the energy efficiency rating when buying: the higher the number, the more efficient the unit. Energy Star certification from the government is a good indicator, too, but not all companies apply for them; often manufacturers will say their units are Energy Star qualified instead.
Features
You should look for programmable timers, temperature control and fan speed to help you find the optimum setting that is comfortable for you. Look for an included window kit so that you can have a vent that goes outside for the hot air. You also want to pay attention to removing and re installing the window kit. Remote controls are also a nice added feature and are becoming a standard for portable air conditioners.
Dehumidifying
Most portable air conditioners can cool and dehumidify at the same time but some can do it separately as well. If you are trying to vent the hot air through your attic or ceiling, you can buy a self-evaporative air conditioner to prevent issues about moisture. These types of units will save you from draining the unit everyday. When dehumidifying, you always need to check the bucket to see if it's full. Some unites have a full bucket indicator.
Noise Level
Just like any type of air conditioner, portable ones also make noise. If this is an issue for you, check the level for noise ratings if they match your expectations. Noise is measured using decibels but when it comes to air conditioners, they use an A-weighted system for the human ear.